---
The Star of Hope a three masted barque wrecked in 1883
---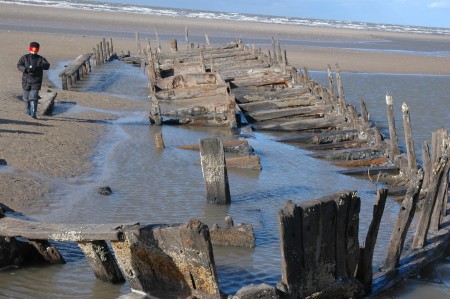 The Star of Hope photographed in February 2005.

She was built at the Stephen and Forbes boatbuilding yard at Peterhead and was launched in 1865.In the late 1800's it was normal that Vessels would be expected in the Mersey given that they had been spotted rounding the top West corner of the Welsh coast and the details telegraphed to their owners :

The Southport visitor records :

A telegram says – The German Barque the Star of Hope was known to be off the Mersey, where distress flares were seen. Nothing has been heard of her since. A further report says the crew of the Star of Hope are aboard the Crosby light ship. The vessel must therefore be wrecked.

In the same paper we read a Victorian Journalism account of the gale :

Terrific Gale, Wreck and serious destruction of property in Southport, Thursday morning which opened so brilliantly fine was evidently only the forerunner of " The calm which precedes the storm " for scarce had the shades of evening set in than the wind began to race- first with zephyr – like playfulness, but gradually increasing in strength by 12 o'clock at night it blew a gale. Those who fancied the storm was at it's height by this time and endeavoured to lull themselves to rest with this thought, were however doomed to disappointment, for the wind , gathering in fury , was at it's height at 2.00 o'clock and such a hurricane followed that has not been experienced in Southport since 1875. So terrific was the force of the wind, that as it rushed along the sound created could only be compared to the discharge of a park of artillery, and many who were indulging in their "first sleep" were rudely awakened by the sound, not only of the wind but falling slates and chimney pots etc, which were pitched hither and thither at the mercy of the mighty boreas.

The Star of Hope had been built at the Stephen and Forbes boatbuilding yard at Peterhead in Scotland and was launched in 1865. It was one of the larger boats built at the yard who's normal output would have been drifters for the herring fishing fleet.

She was outward bound from Wilmington North Carolina USA with a cargo of raw cotton when she was caught in a WSW force 10 gale in the Mersey approaches.The crew of 9 abandoned ship and were taken on board the Crosby lightship.

The Captain was a Captain Hanuman and she was registered at Memel, Memel lies on the Baltic at the mouth of the River Niemen and is now called KLAIPEDA, it is no longer a German port but is now in Lithuaniania.

This wreck is most interesting one as it has a habit of appearing and disappearing according to the movement of the sandbanks and channels. Recently it has been more out of the sand that usual, and over 40 years I have conducted several visits to look at her.

The most recent of these was earlier this year when the wreck was well out the sand, previous visits have found only one or two spars out of the sand a condition that she was in for many years.

Please note this wreck can easily be located and viewed but it is important that you should be accompanied by a local guide familiar with this area of the Southport sands.

I have a slide that shows a barrel which was photographed within 10 feel of the wreck in the 1980's it appears to be a barrel which originally held cement, but has become a solid block and all that is left is the solid cement and some remnants of the original barrel.

This recently re-appeared and is visible at the moment on the starboard side of the wreck, I have a slide showing this.

When I visited her in the late 1980's most of her decking was showing and many features could be seen, the two holds, the mast hole, part of the rail running around the main deck, a large part of the decking, and several barrels of cement.

On one Winter afternoon two men were digging inside the wreck and sieving the sand looking for artifacts, whilst I was there they uncovered several fragments of pottery and some broken clay pipes.

It is a wooden vessel built around 1860 around 120 ft long and 25 feet wide, when the Botanic Gardems Museum Interest group visited her in 1989 there was some doubt about the kind of vessel it was and the following is an extract from a document written following the visit.

The visit also coincided with the visit of Mr Stammers from the Liverpool Maritime Museum to the wreck )

" Mr Stammers report confirms most of our first impressions of the vessel, with minor differences here and there, and as to be expected adds some helpful observations.

His main disagreement with our previous assessment is that the vessel was a brig or snow both of which are two masted rigs, and not a three masted barque.

Since this was written the wreck was identified as the Star of Hope by Len Lloyd and recent measurement by myself and Ted Mason would confirm that it is this vessel. [ At least his view confirms our own, that the ship was square rigged on the two masts where the partners can still be seen.

Mr Stammers bases his deduction from the diameter of the partners, which is compelling evidence overlooked by us. On the other hand our measurements reveal that the main mast was placed at 58% of the length of the deck from the stem-head to taffrail, measured from the bow, which accords with the rig proportions of a three masted vessel.

It is thought to have been fairly unusual for the main mast of a brig to be placed less than 60%-66% of the deck length from the bow, though it is not impossible that some builders may have done so. But in the 1850's, and on a ship with such a height length to breadth ratio ? ]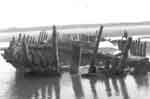 The Star of Hope Wreck on the Ainsdale sands photo taken in 1988

This wreck is most interesting one as it has a habit of appearing and disappearing according to the movement of the sandbanks and channels.

It's last appearance was in 2005 and previous to this was 1988 when a large qty of the decking was still in place.

I have visited the site of this wreck for over 40 years and on many occasions little has been visible other than one or two spars sticking up out of the sand.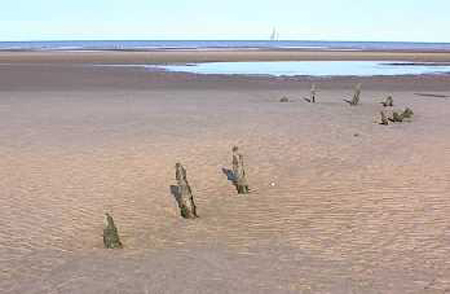 The Start of Hope on the Ainsdale sands photo taken in August 2000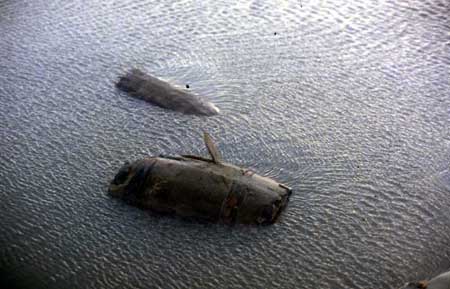 This barrel was photographed within 10 feel of the wreck in the 1980's it appears to be a barrel which originally held cement, but has become a solid block and all that is left is the solid cement and some remanants of the original barrel.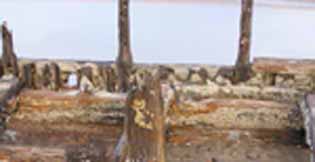 A view of the construction of the hull on the port side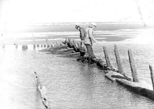 View of the Star of Hope taken in 1971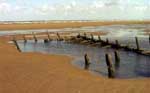 A further view of the Star of Hope taken in the mid 1970's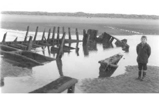 View of the "Star of hope" taken 1988 showing the side rails, decking
and Holds, and it's closeness to the Ainsdale sandhills.
If you have any information on this wreck please e-mail me
Go to home page